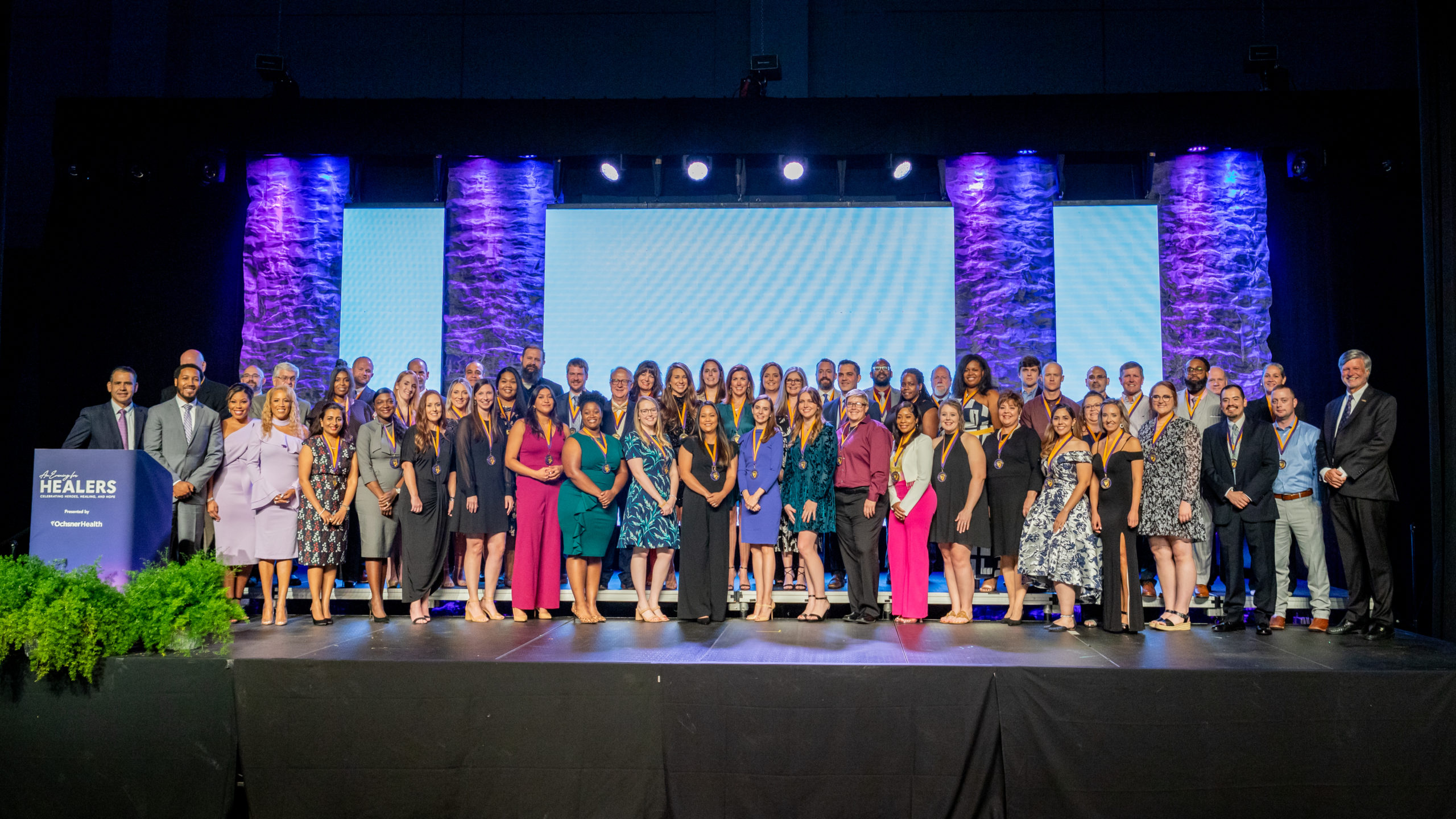 August 31, 2023
Shreveport Convention Center
An Evening for Healers
The LSU Health Sciences Foundation will return with its annual fundraising gala, An Evening for Healers, on Thursday, August 31, 2023. Now in its 12th year, the event has served as a platform to honor and celebrate the Shreveport-Bossier community's first responders, physicians, nurses, allied health professionals, and other healthcare providers who each played a vital role in saving the lives of patients at Ochsner LSU Health Shreveport (OLHS), North Louisiana's only Level 1 Trauma Center, while raising mission-critical funding for LSU Health Shreveport.
Since the event's inception, 24 moving patient stories have been shared, more than 800 dedicated first-responders and healthcare heroes have been honored, and more than $3 million has been raised for LSU Health Shreveport. In 2021, the LSUHS Foundation celebrated record-breaking fundraising, with more than $500,000 being raised in a single year from more than 100 sponsors.
Funds raised through An Evening for Healers help LSU Health Shreveport recruit and retain top faculty, acquire cutting-edge technology and equipment, and support programs for students at all three LSUHS schools – the School of Medicine, School of Allied Health Professions, and the School of Graduate Studies.
Thank you to our guests, patients, and honorees for joining us at the
2022 An Evening for Healers!
Thank You to our 2022 Sponsors
Presented By
Ochsner Health
Event Underwriters
Video Underwriter
Metro Aviation
Healer Honorees Underwriter
Dr. and Mrs. Lacy H. Williams
Welcome Reception Underwriter
CHRISTUS Health Shreveport-Bossier
Valet Underwriter
In Memory of Fred and Willetta Moffitt
Florals Underwriter
Dr. Peggy and Mr. David Murphy
Wine Underwriter
Cuban Liquor
Invitation Underwriter
Paragon Press
Program Underwriter
Brentwood Hospital
Lifetime Sponsors
The Kinsey Family
The Moffitt Family, Moffitt Volkswagen-Mazda-Porsche-Audi Shreveport
Dean Sponsors
Lindsay and John Atkins
Mr. and Mrs. David Means
Willis-Knighton Health System
Chairman Sponsors
Dr. and Mrs. Steven Bailey
LSU Health Shreveport Department of Medicine
Dr. and Mrs. Charles Fox, III
Hand Construction, LLC
Laveer Wealth Management, Kevin Murphy CFP
Dr. David and Kathy Lewis
LSU Health Shreveport Department of Anesthesiology
Debbie Chandler, MD, MBA
Chizoba Mosieri, MD
Shilpadevi Patil, MD
Dr. and Mrs. Keith White
Professor Sponsors
Dr. Chaitanya Ahuja and Dr. Hugo Cuellar
Dr. and Mrs. R. Shane Barton
Boudreaux's Specialty Compounding Pharmacy
Coleman Partners Architects LLC &
Perkins + Will
Frances and Bill Comegys
Sharon L. Dunn, PT, PhD
FitzGerald Contractors, LLC
Hope Pharmacy
LSU Health Shreveport Department of Neurosurgery
LSU Health Shreveport Department of Orthopaedic Surgery
Medic Pharmacy Services
Kathy and Bubba Rasberry
Regina and Robert Redstone
River Cities Interventional Pain Specialists
Lynn and Armand Roos
Connie and Donald Posner
RoseStone Wealth Advisors
Associate Professor Sponsors
Argent Financial
Caddo Parish
Drs. Glenda Johnson and Chris Kevil
Kilpatrick Life Insurance Company & Rose-Neath Funeral Homes
jweiland Group Benefits
LSU Health Shreveport Department of Oral and Maxillofacial Surgery
LSU Health Shreveport Division of Pulmonary and Critical Care Medicine
Querbes and Nelson
Dr. Peter Seidenberg & Dr. EJ Mayeux
Snell's Orthotics and Prosthetics
Tom and Sheryl Ostendorff/Southern Research Co., Inc.
Assistant Professor Sponsors
AEP Foundation/SWEPCO
Aillet, Fenner, Jolly, & McClelland
Dr. and Mrs. Robert Barish
Biomedical Research Foundation
Blanchard Walker
Blue Cross Blue Shield of Louisiana
Wayne and Ellen Brown
Mr. Michael & Dr. Caitlin Busada
Dr. and Mrs. William A. Byrd
Campus Federal Credit Union
Cardinaux Wealth Advisors
Carter Federal Credit Union
Christus Cardiovascular & Thoracic Surgery
Cintas
Marianne and Stafford Comegys
Cross Keys Bank
Dermatology and Skin Surgery
Dr. John and Meredith Evans
Garden Park Nursing & Rehabilitation
Rand and Susan Falbaum
Fat Calf Brasserie
Fibrebond Corp
Martha H. Fitzgerald
Leigh and Kevin Flood
Betty Henderson
Heard, McElroy, and Vestal, LLC
HRI Hospitality
Dr. James and Marie-Alice Hobley
Hummingbird, King, & Butler
Patty and Mark Garrett
Griggs Enterprise
Destiny and Taylor Jamison
JP Morgan Chase
John Pickens Clothiers
Heidi and Gregory Kallenberg
Keith D. Peterson & Co., Inc.
LAMMICO
Ray Lasseigne
Leonard & Betty Phillips Foundation
LSU Health Shreveport School of Medicine Class of 1973
LSU Health Department of Otolaryngology-Head & Neck Surgery
LSU Health Shreveport Department of Urology
LSUS Foundation
Dr. and Mrs. James Patterson
Powers Foundation
Prevot Design Services, APAC
Progressive Bank
Raley & Associates, Inc.
Rapides Regional Medical Center
Red River Bank
Romph & Pou Agency
Shreveport Bossier New Car Dealers Association
Hidehiro Takei, MD
Trinity Operating
The Walter and Poljak Families
WK Spine & Pain Specialists
10 Years of Heroes, Healing, and Hope
In 2021 we celebrated the tenth anniversary of our signature fundraising event. We honored our past patients and their healers with a special lookback video to mark the occasion.
An Evening for Healers has shared 22 inspiring patient stories, honored over 700 physicians, nurses, first responders, and other healthcare workers, and raised $2.6 million for the Chancellor's Fund at LSU Health Shreveport.