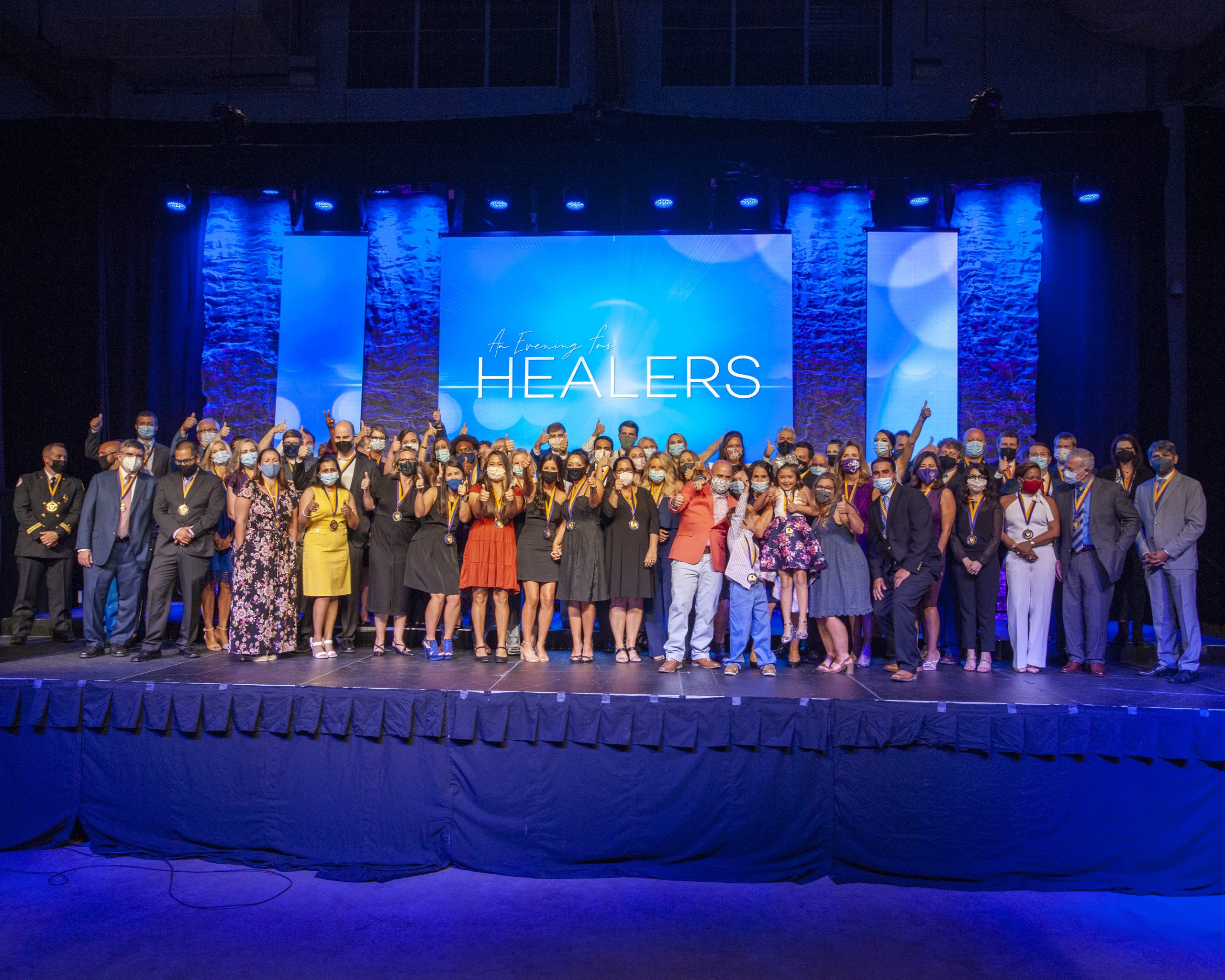 September 22, 2022
6 pm – 9 pm
Shreveport Convention Center
About An Evening for Healers
An Evening for Healers is the signature fundraising event for the LSU Health Shreveport Foundation. Not only does this event raise important funding for our campus, but it also shines a light on the first responders and healthcare professionals in our community who work tirelessly every day to save lives. Sponsorships and donations raised from An Evening for Healers help LSU Health Shreveport recruit and retain top faculty, acquire cutting-edge equipment, and support programs for students. Your support is needed now more than ever.
Thank you for helping LSU Health Shreveport further its mission to deliver expert patient care, conduct transformational research, and provide world-class education opportunities for healthcare professionals.
To learn more about sponsorship opportunities please contact Katie Bursley at 318-861-0855 or kbursley@lsuhsfoundation.org.
Thank You to our 2022 Sponsors
Presented By
Ochsner Health
Event Underwriters
Video Underwriter
Metro Aviation
Healer Honorees Underwriter
Dr. and Mrs. Lacy H. Williams
Welcome Reception Underwriter
CHRISTUS Health Shreveport-Bossier
Decoration Underwriter
Dr. Peggy and Mr. David Murphy
Wine Underwriter
Cuban Liquor
Invitation Underwriter
Paragon Press
Lifetime Sponsors
The Kinsey Family
The Moffitt Family, Moffitt Volkswagen-Porsche-Audi Mazda
Dean Sponsors
Lindsay and John Atkins
Mr. and Mrs. David Means
Willis-Knighton Health System
Chairman Sponsors
Hand Construction, LLC
LSU Health Shreveport Department of Anesthesiology
Debbie Chandler, MD, MBA
Chizoba Mosieri, MD
Shilpadevi Patil, MD
Dr. and Mrs. Keith White
Dr. and Mrs. Charles Fox, III
Professor Sponsors
Boudreaux's Specialty Compounding Pharmacy
Coleman Partners Architects LLC &
Perkins + Will
Frances and Bill Comegys
Sharon L. Dunn, PT, PhD
FitzGerald Contractors, LLC
Hope Pharmacy
LSU Health Shreveport Department of Orthopaedic Surgery
Medic Pharmacy Services
Kathy and Bubba Rasberry
Regina and Robert Redstone
Lynn and Armand Roos
Connie and Donald Posner
RoseStone Wealth Advisors
Associate Professor Sponsors
Argent Financial
Caddo Parish
Dr. Glenda Johnson and Dr. Christopher Kevil
Tom and Sheryl Ostendorff/Southern Research Co., Inc.
Snell's Orthotics and Prosthetics
Querbes and Nelson
Assistant Professor Sponsors
AEP Foundation/SWEPCO
Dr. and Mrs. Robert Barish
Biomedical Research Foundation
Blanchard Walker
Blue Cross Blue Shield of Louisiana
Wayne and Ellen Brown
Mr. Michael & Dr. Caitlin Busada
Dr. and Mrs. William A. Byrd
Campus Federal Credit Union
Cardinaux Wealth Advisors
Carter Federal Credit Union
Christus Cardiovascular & Thoracic Surgery
Marianne and Stafford Comegys
Cross Keys Bank
Dermatology and Skin Surgery
Dr. John and Meredith Evans
Garden Park Nursing & Rehabilitation
Rand and Susan Falbaum
Fat Calf Brasserie
Martha H. Fitzgerald
Leigh and Kevin Flood
Betty Henderson
Heard, McElroy, and Vestal, LLC
Dr. James and Marie-Alice Hobley
Hummingbird, King, & Butler
Destiny and Taylor Jamison
JP Morgan Chase
John Pickens Clothiers
Heidi and Gregory Kallenberg
Dr. Ellen and Mr. Glenn Kinsey
Keith D. Peterson & Co., Inc.
LAMMICO
Ray Lasseigne
LSU Health Shreveport School of Medicine Class of 1973
LSU Health Department of Otolaryngology-Head & Neck Surgery
LSUS Foundation
Dr. and Mrs. James Patterson
Powers Foundation
Prevot Design Services, APAC
Progressive Bank
Rapides Regional Medical Center
Shreveport Bossier New Car Dealers Association
Spine & Pain Specialists
Hidehiro Takei, MD
Trinity Operating
10 Years of Heroes, Healing, and Hope
In 2021 we celebrated the tenth anniversary of our signature fundraising event. We honored our past patients and their healers with a special lookback video to mark the occasion.
An Evening for Healers has shared 22 inspiring patient stories, honored over 700 physicians, nurses, first responders, and other healthcare workers, and raised $2.6 million for the Chancellor's Fund at LSU Health Shreveport.