Individual tickets are now on sale! Continue scrolling to the bottom of the sponsorship list to purchase.
We are monitoring public health advisories regarding COVID-19 and will communicate updated mandates with attendees prior to the event.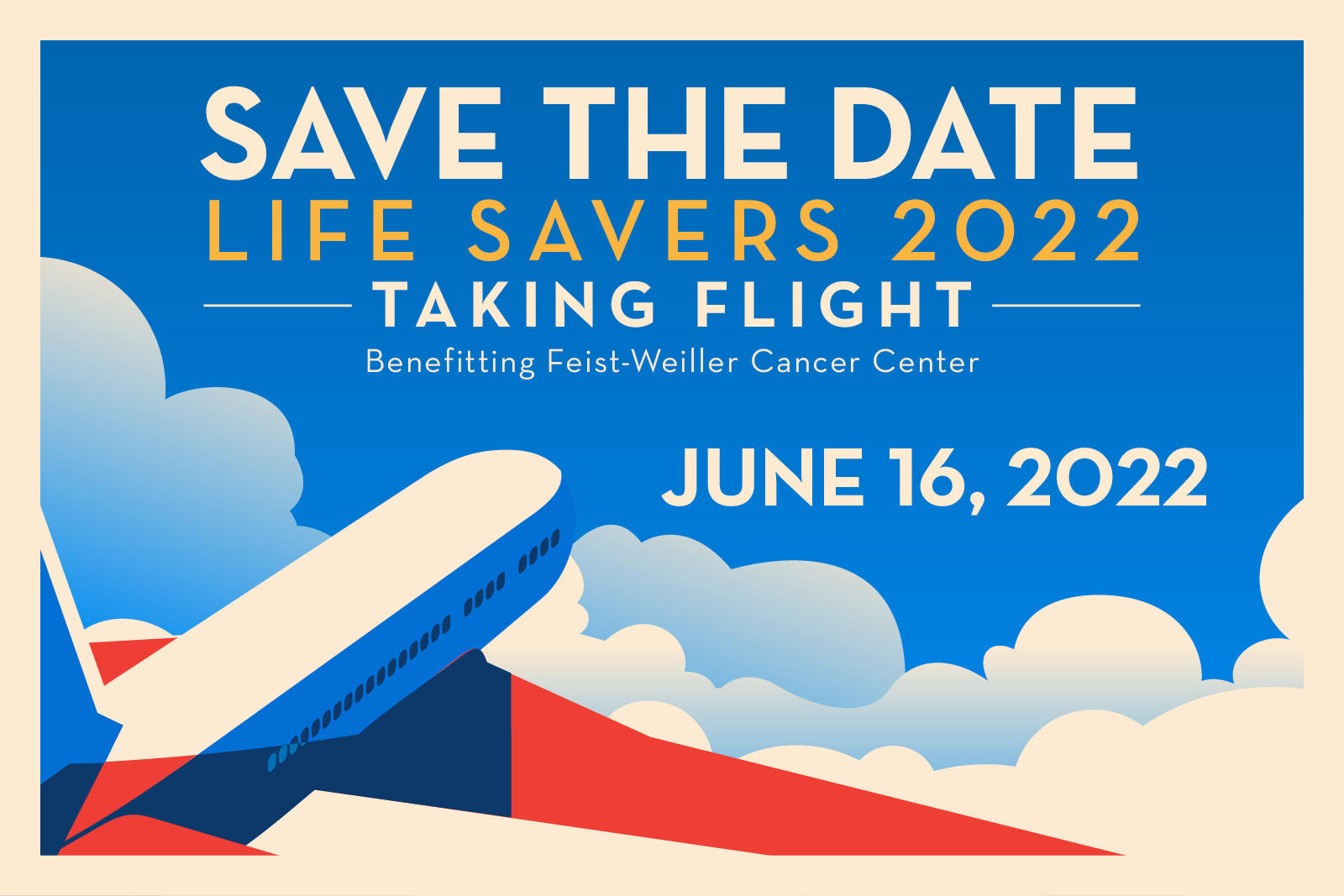 Life Savers 2022
Welcoming Dr. Sarah Thayer to Ochsner LSU Health Shreveport –  Feist-Weiller Cancer Center
For more than 20 years, this community has gathered at Life Savers to celebrate and raise vital support for Feist-Weiller Cancer Center (FWCC). As North Louisiana's only academic cancer center, FWCC serves an area with immense need and some of the highest incidence of cancer in the nation. Sponsorships and donations at Life Savers help us continue our work to better our community.
To learn more about sponsorship opportunities please contact Margo Clendenin at 318-813-1065 or mclendenin@lsuhsfoundation.org.
Feist-Weiller Cancer Center is a Center of Excellence in Cancer Research, Treatment, and Education supported by LSU Health Shreveport and Ochsner LSU Health Shreveport.
Thank You To Our Sponsors!
Title Sponsor
Genentech
Presenting Sponsor
The Cancer Focus Fund, LLC
Gold Sponsors
Holliday Enterprises, Inc.
Lee Michaels Fine Jewelry
Medic Pharmacy
Ochsner LSU Health Shreveport
Lynn and Armand Roos & Connie and Donald Posner
Silver Sponsors
ADC Therapeutics
AEP Foundation
Dr. Rose M. Brouillette & Richard E. Hiller
Eisai Oncology
The Guthikonda Family
Mudd and Holland Consulting Foresters
Pafford Air One
Bronze Sponsors
Dr. Destin R. Black and Dr. Jason H. Lustig
Blue Cross Blue Shield
Dr. & Mrs. Jason Calligas, Dr. Jehan Abdulsattar, Dr. Karuna Dewan
Campus Federal Credit Union
Deep South Equipment
Dept. of Otolaryngology/HNS: Ameya A. Asarkar, MD; Gale Gardner, MD; Cherie‐Ann Nathan, MD; & John Pang, MD
Dethloff & Associates, Inc.
Fire Tech Systems, Inc
Shreveport Bossier New Car Dealers Association
Drs. Jane & Miles Sugar, Drs. Stacey & Patrick Massey
All Sponsorships Include:
Listing on Taking Flight website with direct link to company website
Inclusion in social media and pre-event promotions
Invitation to Captain's Reception for sponsors
 Title Sponsor
This Seat's Taken!
$20,000
20 boarding passes including reserved seating at the Captain's table and access to special amenities in First Class
Title Sponsor level recognition on key event signage and materials
Full page recognition in our in-flight magazine
Welcome video message from the Captain at the event
Recognition from the First Officer during live program
Inclusion in event press release
Recognition in a permanent display at Feist-Weiller Cancer Center
 Presenting Sponsor
(2 Available)
$15,000
16 boarding passes including reserved seating and access to special amenities in First Class
Choice of presenting opportunities (first come, first-served basis)
Pack Your Bags Trip
In-Flight Entertainment
Flights of Food & Drink
Presenting Sponsor level recognition on key event signage and materials
Full page recognition in our in-flight magazine
Welcome video message from the Captain at the event
Recognition from the First Officer during live program
Inclusion in event press release
Recognition on a permanent display at Feist-Weiller Cancer Center
 Platinum Sponsor

$10,000

10 boarding passes including reserved seating and access to special amenities in First Class
Platinum Sponsor level recognition on key event signage and materials
½ page recognition in our in-flight magazine
Recognition from the First Officer during live program
Inclusion in event press release
Recognition on a permanent display at Feist-Weiller Cancer Center
Gold Sponsor
$5,000
8 boarding passes including reserved seating and access to Business Class amenities
Gold Sponsor level recognition on key event signage and materials
¼ page recognition in our in-flight magazine
Inclusion in event press release
Silver Sponsor
$2,500
4 boarding passes including reserved seating and access to Business Class amenities
Silver Sponsor signage placement at event and in materials
Recognition in our in-flight magazine
Bronze Sponsor

$1,000
4 boarding passes including reserved seating
Bronze Sponsor signage placement at event and in materials
Recognition in our in-flight magazine