Honoring Our Donors
Our donors are noble, visionary, and worthy of celebration. Below you'll find a few examples of individuals like you who value the mission of LSU Health Shreveport and gave generously to make an impact on all who learn, train, or trust LSU Health with the most important decisions of their lives. 
A Foundation of Transformation
All donors are celebrated, but some special individuals are elevated. The charitable giving of these donors are why the Foundation exists today and shall exist tomorrow.
Cleveland "Cleve" Burton
Cleve Burton's enduring legacy transformed the Foundation and endowed the department of Orthopaedic Surgery. At the time, Mr. Burton's $5 million donation was the largest received by the LSU Health Sciences Foundation. Gifts that are available for use in times of need are called unrestricted gifts. This means that the donor did not specify a use for the gift, requesting only that it be used to meet the most urgent need.  In the history of the Foundation, there have been many unrestricted gifts that have made big differences at LSU Health Shreveport, but none as large as Cleveland Burton's. Even today, it affords the Foundation the financial flexibility it needs to assist future generations realize their philanthropic dreams.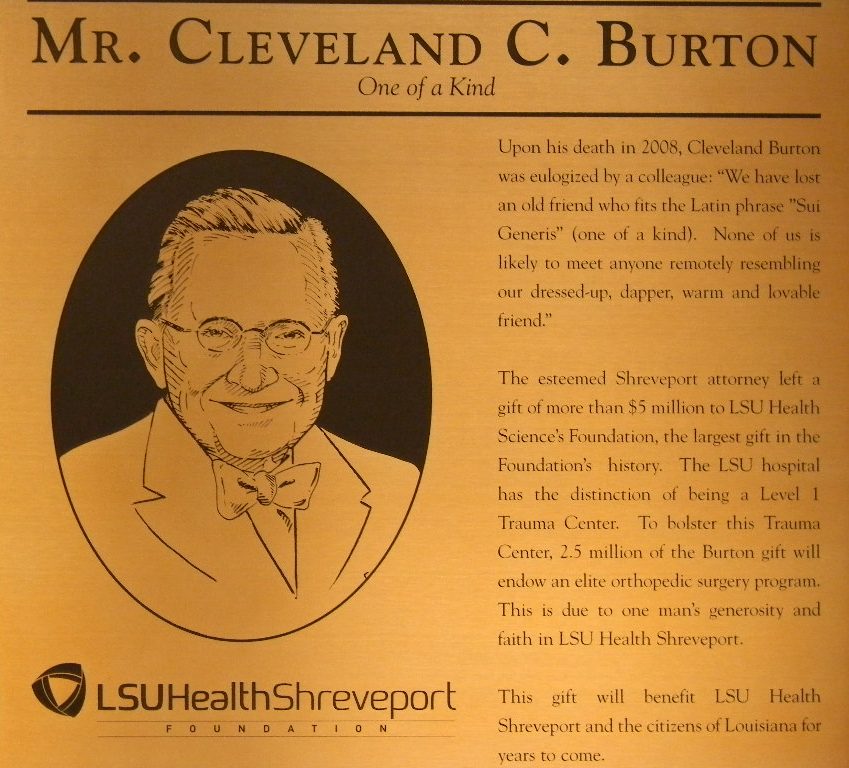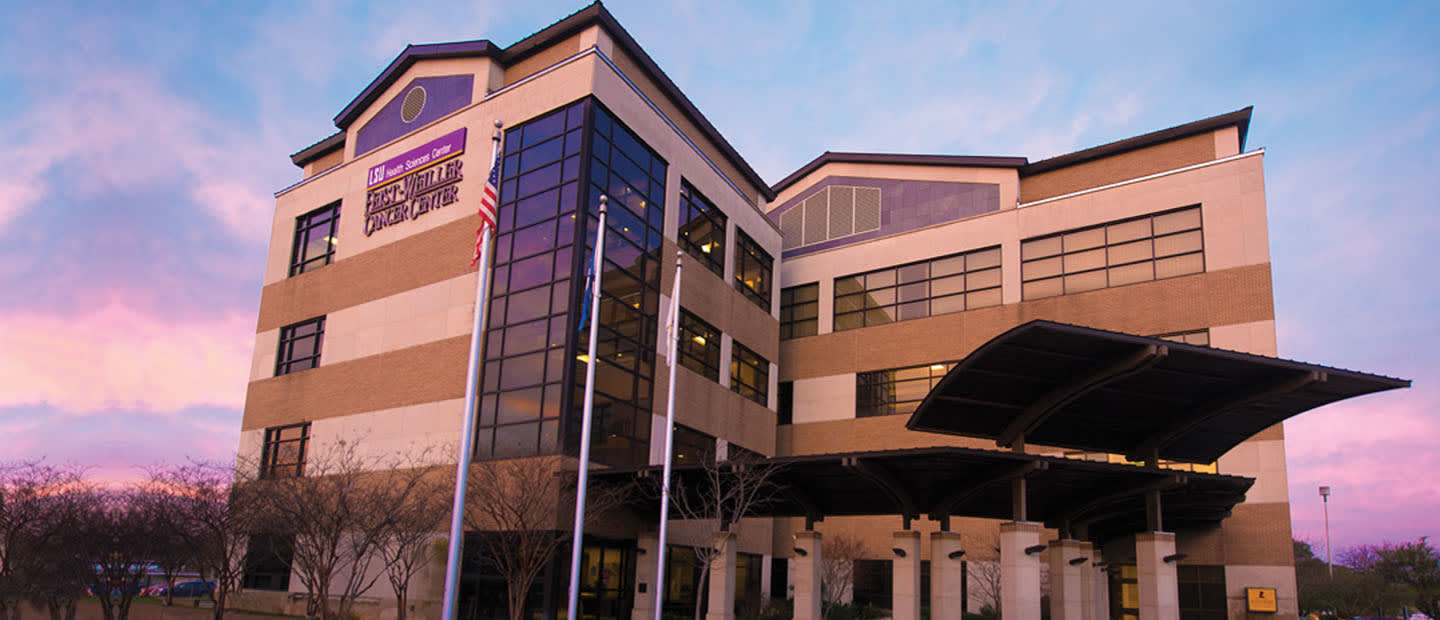 Malcolm and Carroll Feist
Malcolm and Carroll Feist were brothers who bequeathed virtually the entirety of their estates, valued at more than $100 million, to the LSU Health Sciences Center at Shreveport for medical research. Their family had vast land holdings in Caddo and Bossier Parishes. Malcolm, a local attorney, died in 1985, designating his gift for cardiovascular research. With a love of learning and relationships forged with campus leaders, Carroll was a generous supporter even before his death in 2005. The Feist-Weiller Cancer
Center, named for the brothers' families, was made possible with money he donated.
Fred Moffitt & Family
Many people give generously. Some inspire others to give. Few do both. The late car dealership magnate and philanthropist Fred Moffitt blessed LSU Health Shreveport with major financial support for decades, but his enduring legacy is the sustained success of the LSU Health Sciences Foundation's signature event, An Evening for Healers. Fred and his family were early champions of LSU Health and the Foundation. The Moffitts worked tirelessly to promote the work of LSU Health Shreveport's lifesaving faculty physicians and challenge others to get involved. To date, An Evening for Healers has raised over $3 million in unrestricted contributions for LSU Health, and has become a can't-miss annual event drawing hundreds of national and local leaders, grateful patients, and enthusiastic supporters every year.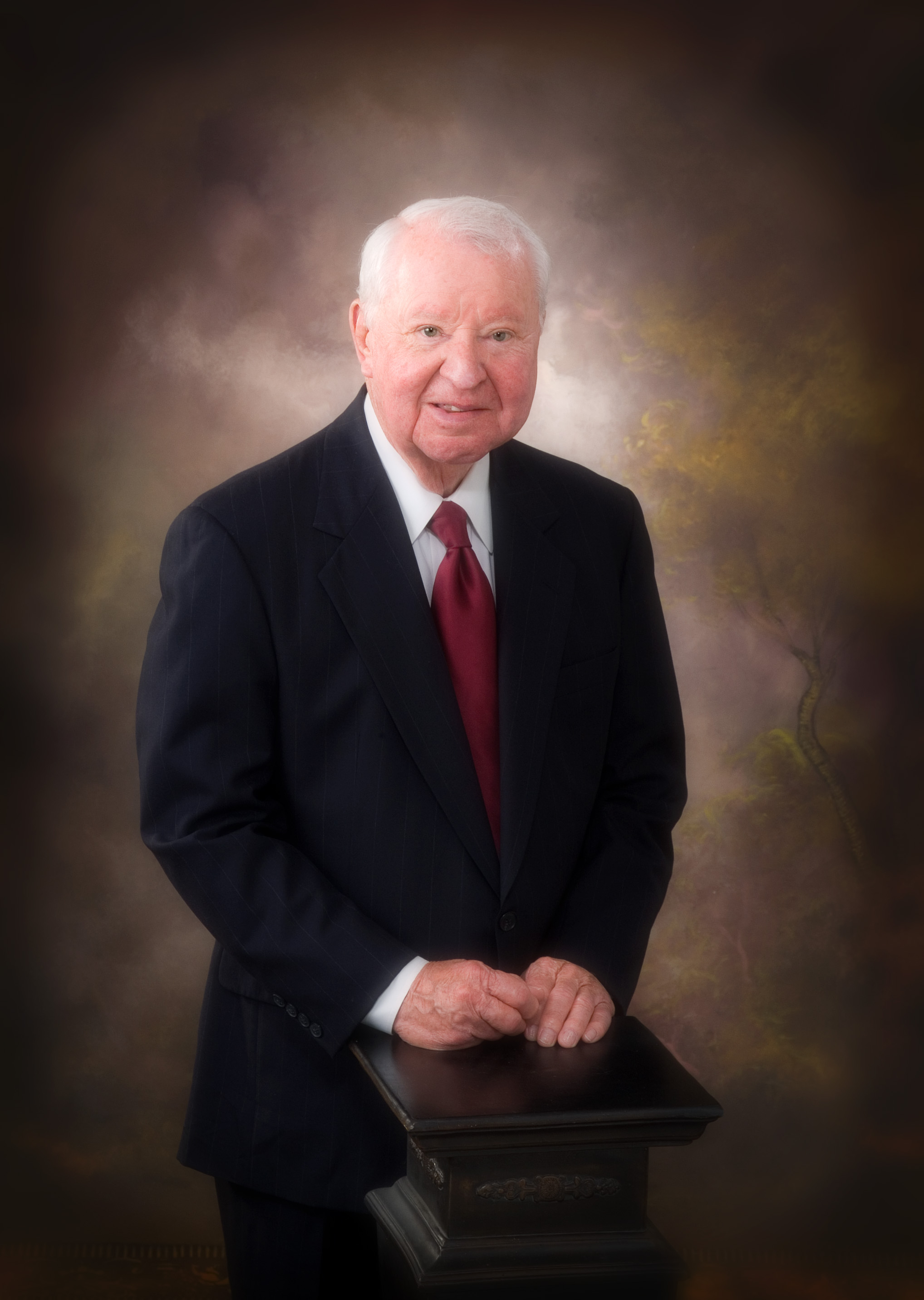 Leaving a Legacy
These individuals have made the ultimate gift to LSU Health: they've included the LSU Health Sciences Foundation in their end-of-life or long-term financial planning. Don't see your name listed below? Contact us today.
Drs. Fleurette and Kenneth Abreo
James A. Albright, MD
Dr. and Mrs. Federico L. Ampil
Mr. Joel G. Anderson
Dr. and Mrs. Thomas C. Arnold
Mr. and Mrs. John E. Atkins
Joseph A. Bocchini Jr., MD
Dr. and Mrs. G. Gary Brooks
Dr. and Mrs. James Brooks
Gloria C. Caldito, PhD
Dr. and Mrs. Philip A. Cole
James D. Cotelingam, MD
Mr. Donald and Mrs. Sue Crow
Mrs. Golda D'Artois
David DeSha, PhD
Mr. Malcolm Feist
Mr. Carroll W. Feist
Mr. and Mrs. Langdon T. Frey III
Dr. and Mrs. Ghali E. Ghali
Mrs. Marie Goode
Mr. and Mrs. J. William Hankins
Mr. O. Delton Harrison Jr.
Dr. Guillermo A. Herrera and Dr. Elba Turbat-Herrera
Dr. Anne Hollister and Mr. Hans Gerteis
Mr. and Mrs. Percy V. Hubbard
Robert D. Jackson, MD
Dr. Ajay Jawahar and Mrs. Lisa Jawahar
Stephen R. Keasler, MD
Dr. and Mrs. Ernest A. Kiel
Dr. David and Mrs. Kathy Lewis
Barbara A. Locke, MD
Joanna G. Magale
John C. McDonald, MD
John M. Meyer
Richard C. Mooney, MD
Linda Nall, MD
Drs. Cherie-Ann and Raghu Nathan
Mr. and Mrs. Sydney B. Nelson
Dr. and Mrs. Eric R. Oser
Mrs. Maxine E. Sarpy
Drs. Karen and James Small
Ms. Ascension D. Smith
Dr. and Mrs. Lee Stevens
Dr. Guillermo A. Herrera and Dr. Elba Turbat-Herrera
Drs. Elizabeth and Joseph Washburne
Sarah Wilkerson
Mr. and Brent H. Wright
Mr. and Mrs. Donald J. Zadeck
Thank A Donor Day
Every year, LSU Health Shreveport's campus is transformed into a hub of appreciation on Thank A Donor Day. Students, faculty, and administrators join together to write thousands of personalized thank-you notes, record #LoveLSUHS testimonials, and celebrate the impact our donors make at LSU Health Shreveport. Thank A Donor Day serves to involve all of LSU Health Shreveport in the donor stewardship process and demonstrates to our donors that their contributions have a tangible, human impact.