School of Allied Health Professions Alumni
LSU HEALTH SHREVEPORT SCHOOL OF ALLIED HEALTH PROFESSIONS ALUMNI
The Alumni Association's mission is to connect with alumni to strengthen relationships and encourage involvement with the School.
With over 3,400 alumni from seven different health professions, the School of Allied Health Professions has experienced significant growth over the last few decades, and in the process, built relationships amongst some of the most dedicated health professionals in the industry.
Alumni across the country continue to be the greatest voice we have in showcasing LSU Health Shreveport and the School of Allied Health Professions. Thank you for your continued support through your participation as preceptors, guest lecturers, in skills training, and donations that keep the legacy growing.
Stay connected and strengthen the comradery you developed at LSU Health Shreveport! 
Valorie Lurry, Director of Alumni Affairs
Office of Student Life & Alumni Affairs, LSU Health Shreveport
1501 Kings Highway, Shreveport, LA 71130
(318) 813-2898 or valorie.lurry@lsuhs.edu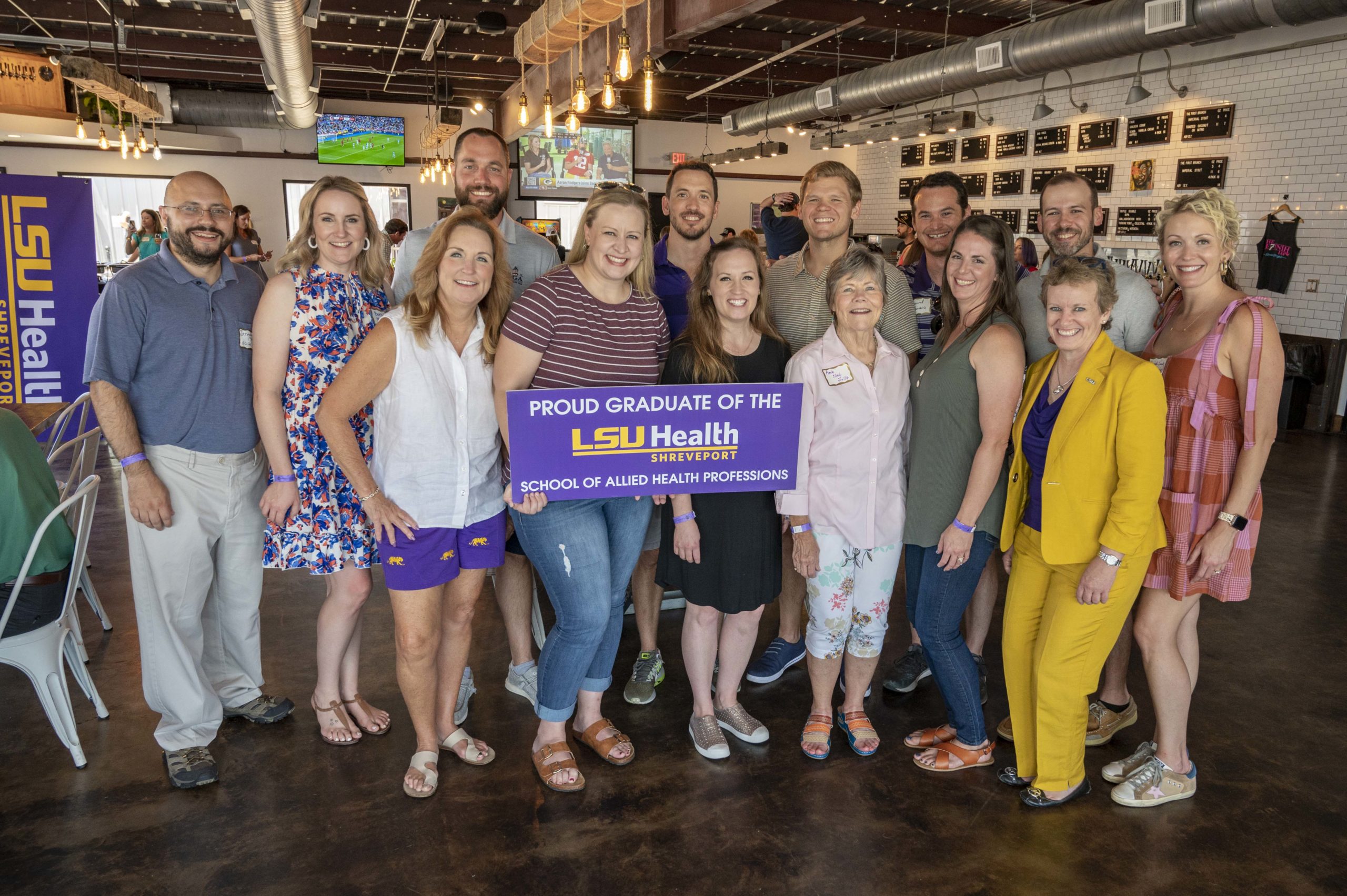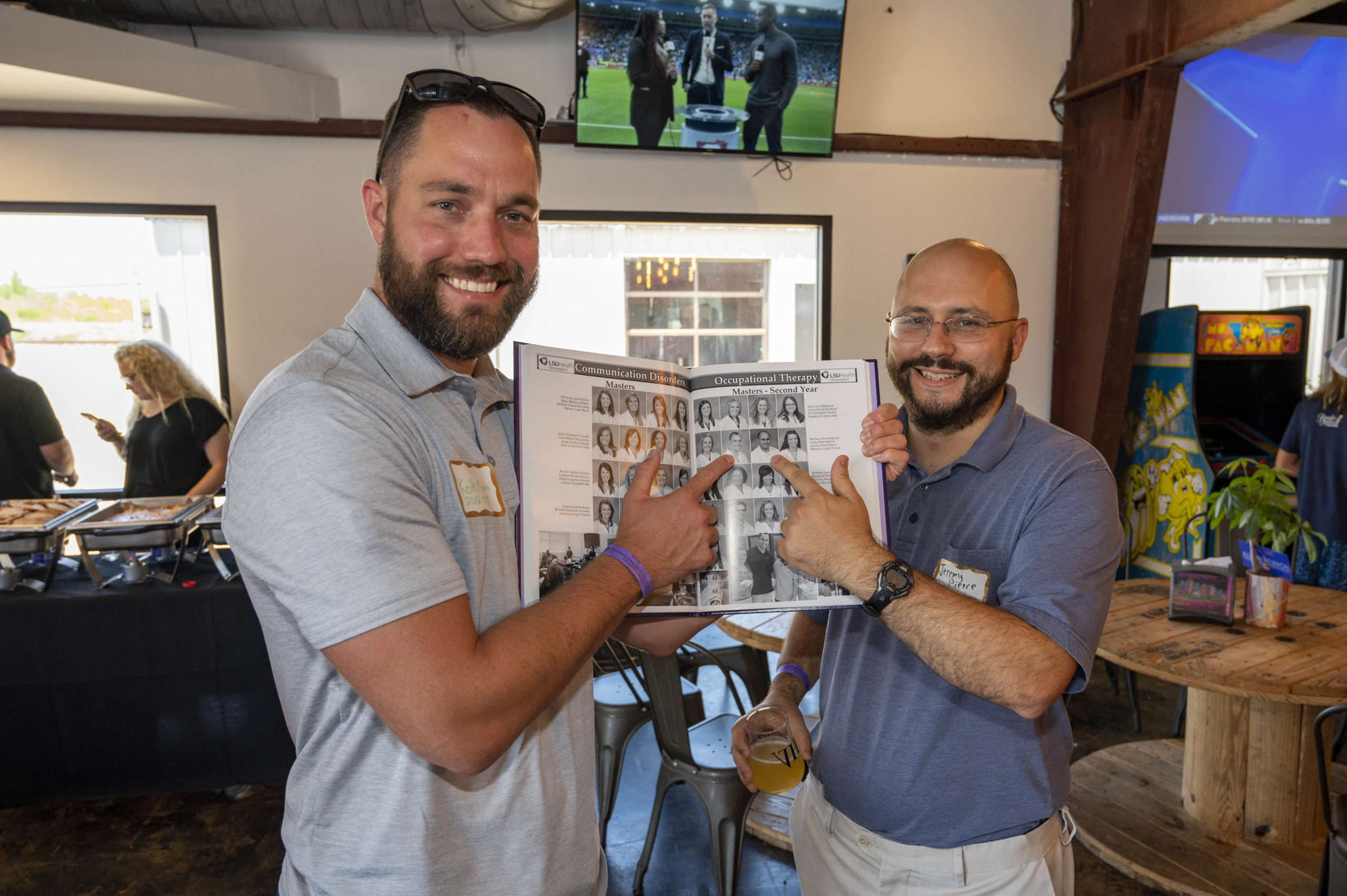 Give Back & Get Involved
Thank You Alumni of LSU Health Shreveport!
You can contribute to your alma mater through various initiatives. See below sponsorship opportunities and ways to give directly to your program and their scholarship campaigns.
Physician Assistant (PA) Alumni
The program kicked off a 25th Anniversary Scholarship campaign to assist in recruiting top candidates to become future PA alumni of LSU Health Shreveport. As part of the 25th Anniversary Campaign, alumni can sponsor the short white coat for first-year PA students. Sponsoring affords you the opportunity to write a note of encouragement to the student and place it in the pocket of the white coat. Last year we had twenty-eight PA alumni join us for the cloaking ceremony. We look forward to growing this event yearly. For more information, contact the program at (318) 813-2920.
The Joe McCulloch Endowment for Educational Excellence
A contribution to the McCulloch Endowment ensures we can continue to honor the legacy of the former Dean of the School of Allied Health Professions, Dr. Joe McCulloch. This endowment will support educational initiatives that impact all of our students. 
Speech-Language Pathology Alumni
Each year, the Mollie Webb Speech & Hearing Center and Communication Disorders program hosts a continuing medical education (CME) event for alumni. Not only is the event beneficial to you professionally, but the event also gifts time with your former classmates and other SLP Alumni. To learn more, call (318) 813-4200.
Resources for SAHP Alumni
Welcome Alumni!
The Alumni Association's mission is to strengthen and support the LSU Health Shreveport's School of Allied Health Professions by promoting life-long relationships between alumni, current students, trainees and faculty.
We do so by cultivating relationships with our graduates, supporting current students on their journey to join our noble profession, and providing programs and opportunities for alumni to give back to and engage with their alma mater.
History of LSU Health Sciences Center in Shreveport
This website details the important events in the history of the LSU Health Sciences Center in Shreveport. Beginning in 1869, this chronological journey graphically documents more than 140 years of progress.
DynaMed
This is a point-of-care clinical reference tool that provides clinical topic reviews, levels of evidence, and graded recommendations. For the login information, LSU Health Shreveport alumni should contact Mararia Adams at 318.675.5448 or madams@lsuhsc.edu. The DynaMed Basics Quick Reference Card provides information on various features of this clinical reference tool, along with quick tips on searching DynaMed.
Digitized Yearbooks & Commencement Programs
The LSU Health Sciences Library at LSU Health Shreveport has archived yearbooks, commencement programs and class photographs dating from 1973 through 2011 to this digital database. LSU School of Medicine Shreveport published its first yearbook in 1973, named "Thrill." Prior to that, 1970-1972, students attending LSU School of Medicine in Shreveport were included in "Murmur," the yearbook published by the LSU School of Medicine in New Orleans.
In 1975, LSU Health Shreveport's yearbook was renamed with its current title, "Pulse."
Reunions and Events
LSU Health Shreveport School of Allied Health Professions Reunion
Stay tuned for 2023 reunion dates! Please contact Valorie Lurry at 318.813.2898 or valorie.lurry@lsuhs.edu for more information.