Help our students travel (HOST)
The Help Our Students Travel (HOST) program connects current LSU Health Shreveport medical students traveling for away rotations and residency interviews with alumni hosts in the vicinity of their interview/rotation sites. On average, a student will have twelve interviews across the country scheduled between October and January. Alumni volunteers can help offset the financial burden of such travel by providing students with free housing, meals, and transportation while visiting their area. The HOST program provides a wonderful opportunity to build connections between students, trainees, and alumni that can last a lifetime.
HOST Process for Alumni Volunteers:
One way to reconnect and support LSU Health Shreveport is to volunteer as a host for our current medical students as they travel for away rotations and residency interviews. We'd like to thank your alumni in advance for their valuable support during this exciting time for our students.
Step 1 – Complete your Alumni Interest Form.
Step 2 – The Office of Alumni Relations will contact you if an LSU Medical Student is traveling in your area.
Step 3 – Once a match has been made, the Office of Alumni Relations will introduce you to the student through email.
Step 4 – The LSU Medical Student will contact you with details of their schedule.
Step 5 – Host the student.
Step 6 – Complete the online evaluation, which will be emailed to you after your visit.
HOST Process for Students Traveling:
Are you a student interested in utilizing the HOST program? Follow the steps below to submit your travel dates and locations.
Step 1 – Once you have your travel dates, complete the online Student Request Form.
Step 2 – The Alumni Relations Office will email you the HOST's contact information once a match has been made.
Step 3 – Contact your HOST volunteer with details of your schedule.
Step 4 – Enjoy your trip.
Step 5 – Complete the online evaluation, which will be emailed to you after your visit. Also, be sure to send a thank-you note to let your HOST volunteer know how much you appreciated their hospitality.
Residency Match Map:
This map displays the residency locations of each of the School of Medicine's graduates from 2014 to 2020 so current students can locate potential mentors and communicate with them to obtain advice about specific programs. The map will be updated each year with new graduates to maintain the six most recent classes of graduates. The map and spreadsheet is a collaborative effort between the AAMC-OSR Representatives and the Office of Alumni Affairs. To receive the contact information for recent alumni, complete the Match Map Contact Request form.
Match Map Instructions: Click the picture below to load the map. To filter out certain specialties, uncheck the box next to the specialty that you do not wish to see. Click on each of the pins to see more information, including name, preliminary program (if applicable), class year and more. Please note that certain cities may only display one pin. This is because the map is only accurate to the city level, not the program. You may find more graduates and programs in individual cities by referring to the spreadsheet below.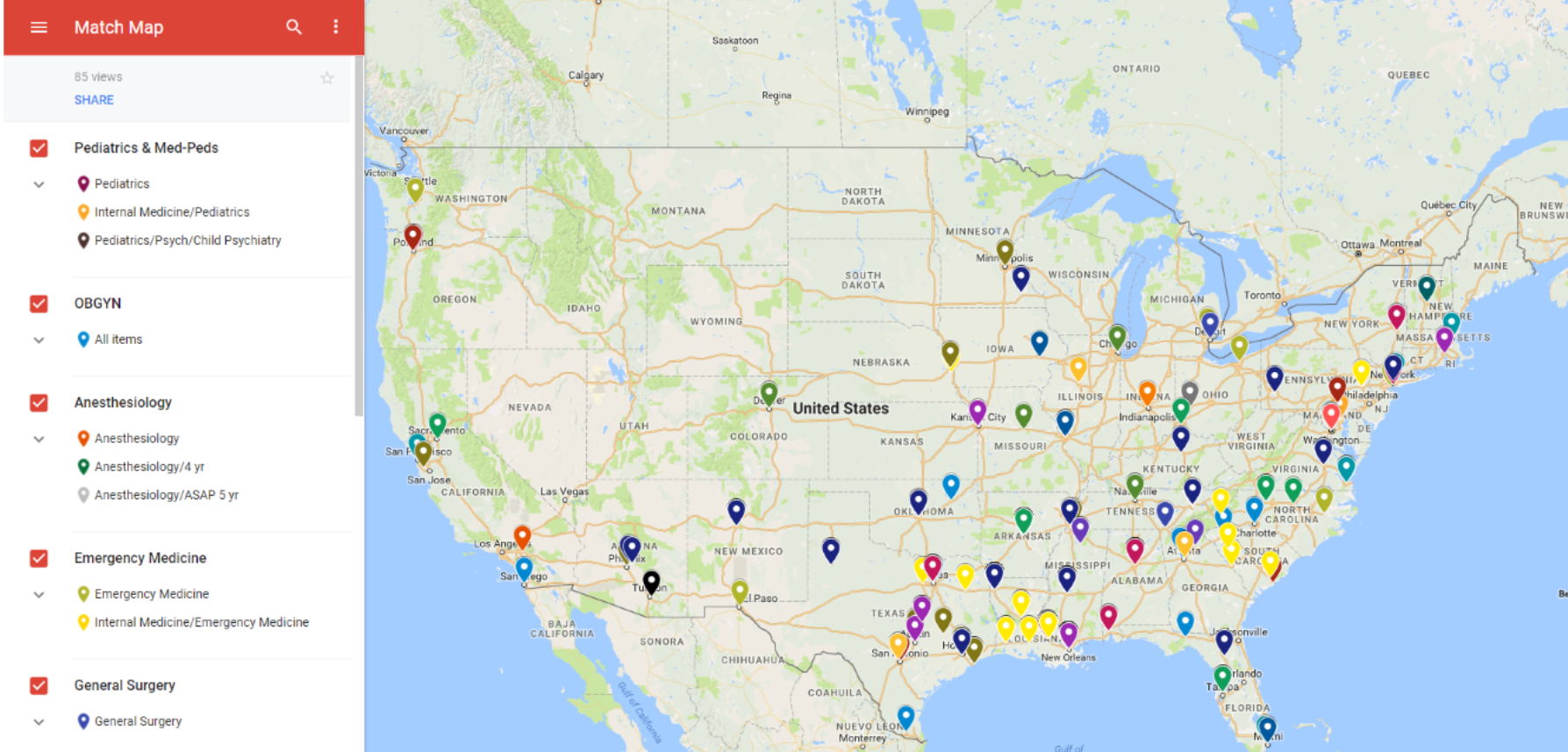 Spreadsheet Instructions: To search for individual programs, cities, or graduates, please click the link below for a spreadsheet listing each of the specialties. Note: You can sort the list by selecting the entire chart (Ctrl+A for PCs or Command+A for Macs) and clicking "Data" in the toolbar at the top → "Sort range…". This will present you with a small text box. Check the box "Data has a header row" and select the column that corresponds to the category by which you wish to sort.
RotatingRoom Website:
This resource aims to help the thousands of medical students around the country find places to stay while doing away rotations and help them find med students to sublet their rooms at the same time. Visit their website (https://rotatingroom.com) for more information.
This is a work in progress so please send your thoughts and feedback to the Office of Alumni Affairs or the current AAMC Student Representative.