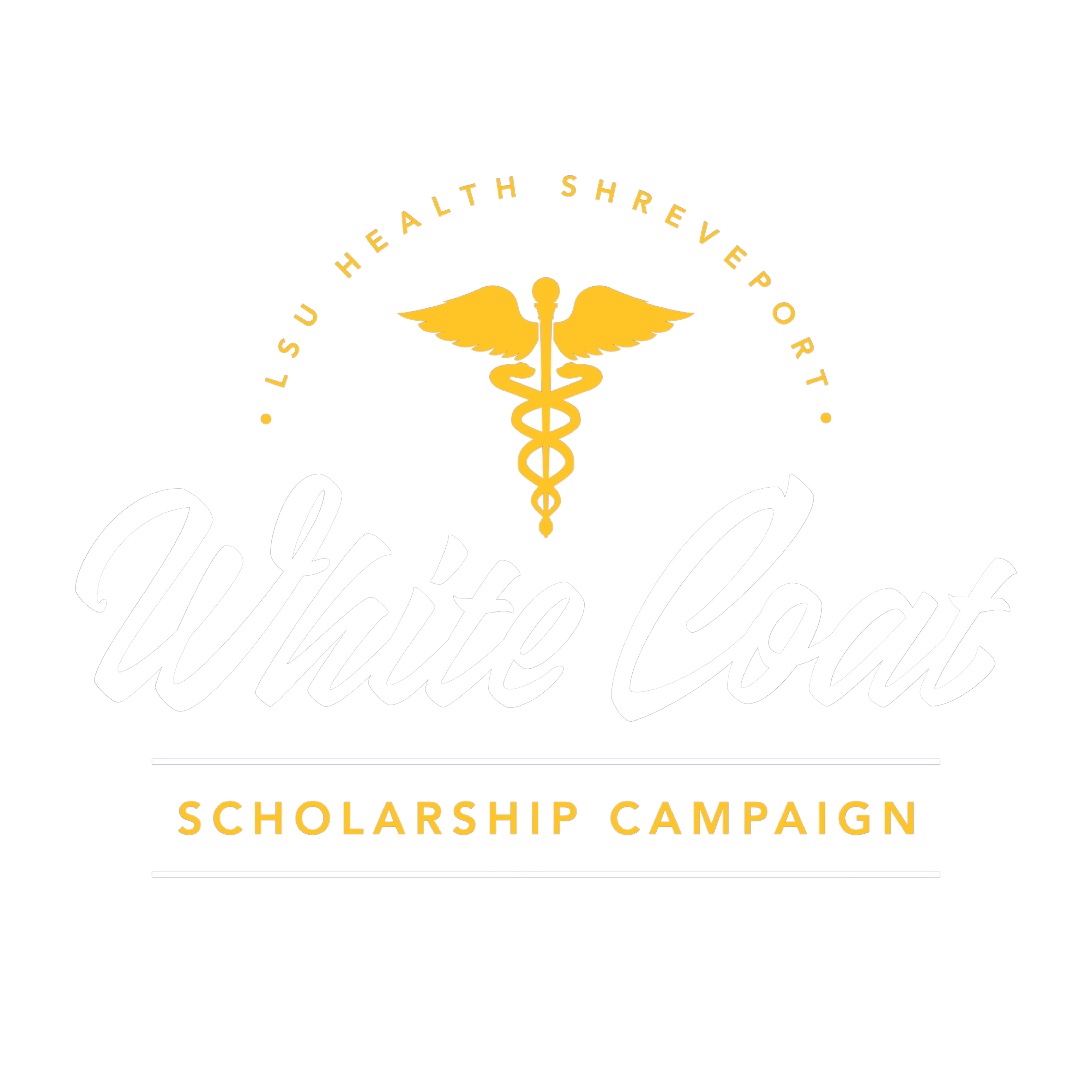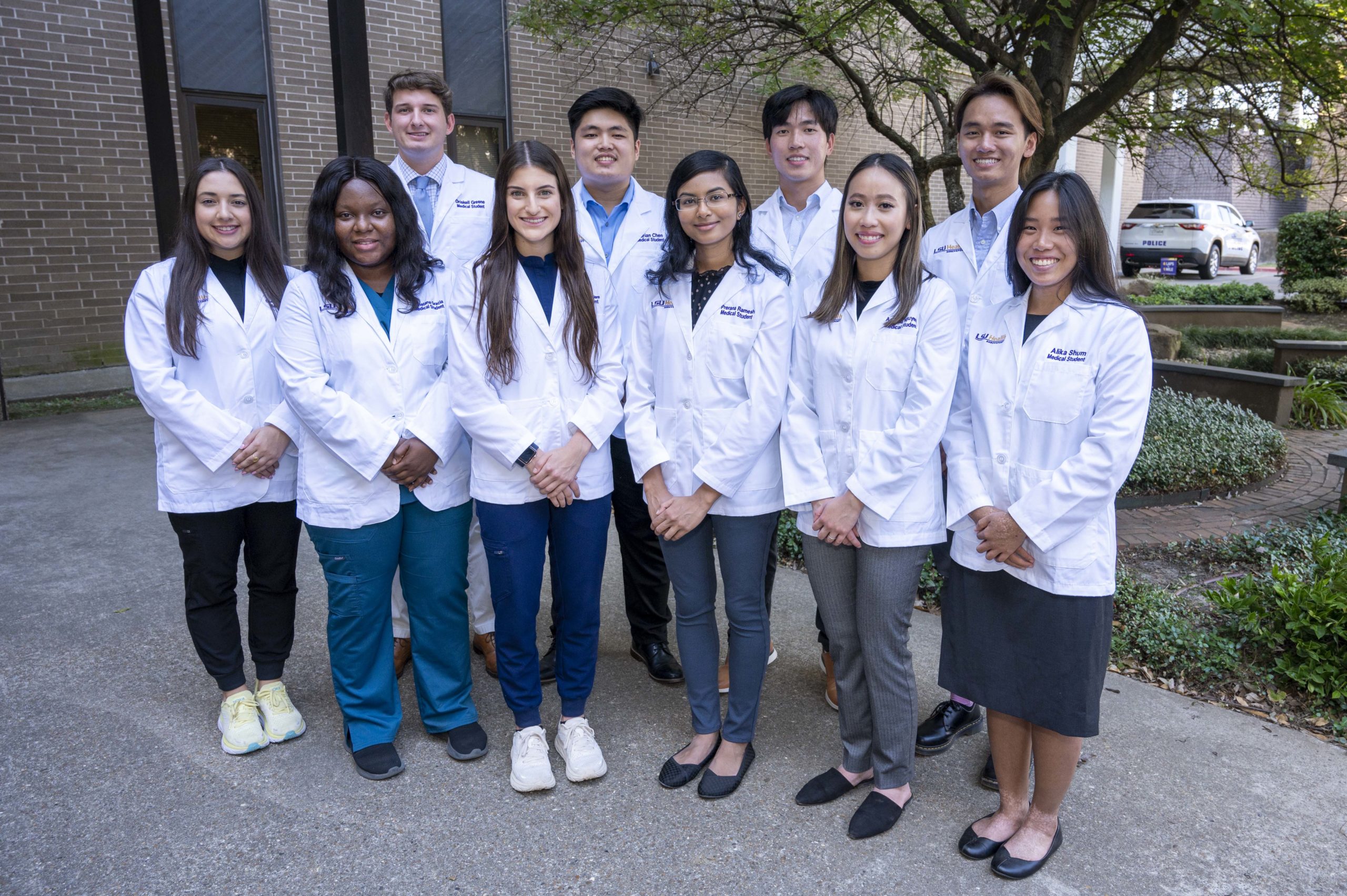 When you support the White Coat Scholarship Campaign, you help open doors for the next generation of LSU Health Shreveport physicians. In its inaugural year, the campaign raised $200,000, allowing LSU Health Shreveport to award 4-year scholarships to ten gifted and deserving medical students. Your gift has a lasting impact on our students and their future medical careers. Scholarships are also vital to attracting highly competitive applicants to LSU Health Shreveport.
Continue reading to learn more about the Class of 2026 White Coat Scholars.
White Coat Scholar
Impact Spotlights
Mackenzie Louviere, MSI
Hometown: Gramercy, Louisiana
Undergraduate: LSU Baton Rouge
Mackenzie Louviere grew up in small-town Gramercy, Louisiana, with big family gatherings with lots of food and laughter. Her family has been a constant support system in her journey to become a doctor. She is a first-generation college student and the first person in her family to attend medical school. Always interested in the medical field, Mackenzie majored in Kinesiology at LSU Baton Rouge. Giving back to her community is of the utmost importance to Mackenzie, so she has volunteered with Heart & Hooves and Habitat for Humanity, and most recently, Camp Tiger at LSU Health Shreveport.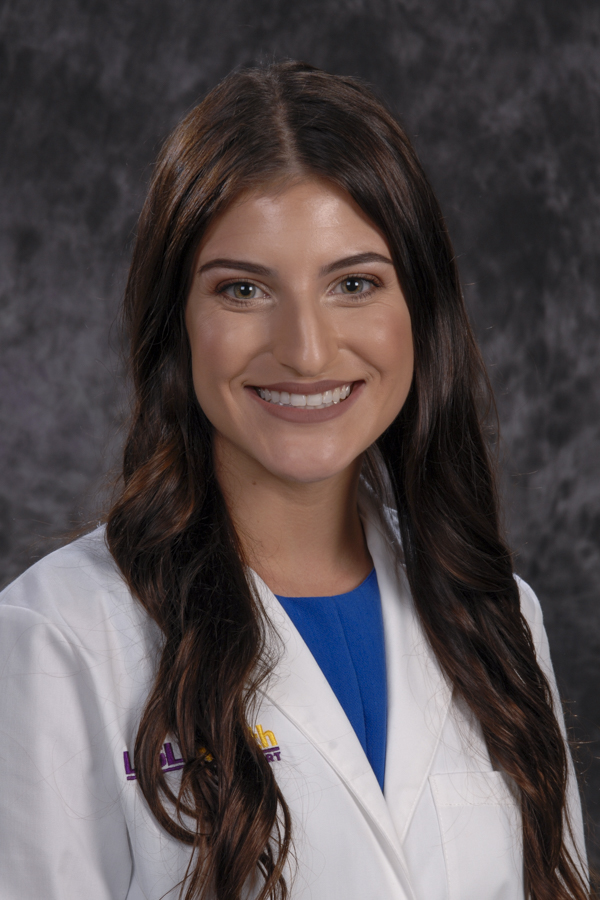 Why do you want to become a physician?
"My first steps in a hospital were as an EKG technician, and that experience affirmed my goal of becoming a physician. I had the opportunity to work with patients hands-on and being a small part of the healthcare team had a huge impact on me. Seeing the interaction between a doctor and patient was one like no other. The knowledge and ability to heal makes that doctor-patient relationship special and one I want to provide. LSU Health Shreveport has given me that opportunity to fulfill my goal of providing care to my patients while giving back to my community."
What would you say to the donors who made your scholarship possible?
"Being awarded my scholarship has lifted the pressure off my shoulders during the already stressful process of beginning medical school. I cannot begin to thank the wonderful donors in making my dream come true. If it was not for those donations, my scholarship would not exist. The financial stress of supporting my journey through medical school would be very difficult, but thanks to the donors, I can enjoy my experience at LSU Health Shreveport even more."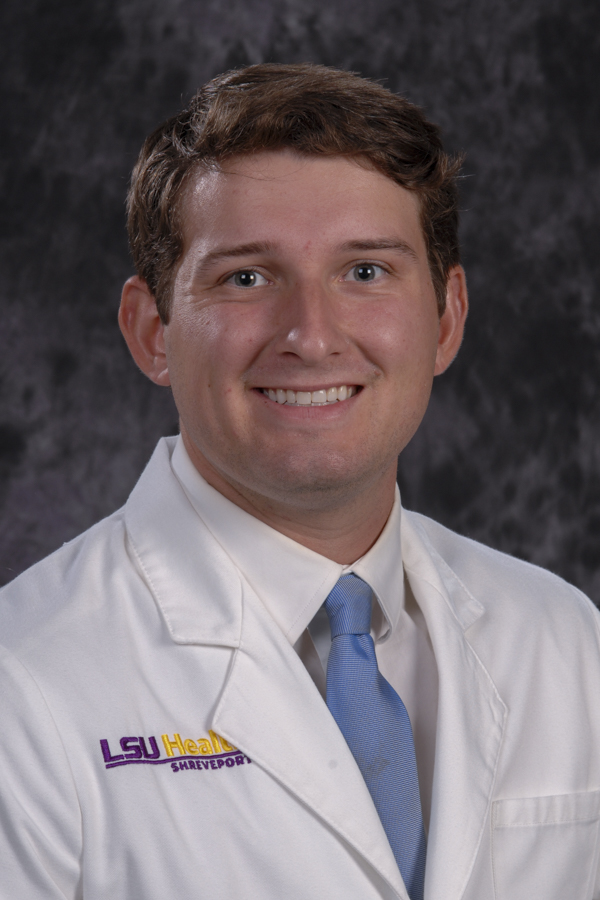 Driskell Greene, MSI
Hometown: Baton Rouge, LA
Undergraduate: LSU Baton Rouge
Driskell Greene was born and raised in Baton Rouge, Louisiana, and attended LSU Baton Rouge, where he majored in Sociology and minored in Business Administration and Political Science. His family works primarily in the legal field, and he has volunteered on numerous political campaigns. Until his junior year of college, Driskell planned to attend law school and follow in his family's footsteps. However, after shadowing a physician during spinal surgeries, he decided to pursue his medical education at LSU Health Shreveport.
Why did you choose LSU Health Shreveport to pursue your medical education?
"I look forward to meeting new people and moving to a new place! I've never lived outside of Baton Rouge so the new chapter in my life will be great in more ways than one. I chose LSU Health Shreveport because of the faculty and everyone here who is committed and invested in the students. From the first time I was on campus to all of the correspondence I've received from faculty to all the times I've called the school with any questions I have had, every single experience was positive. I feel the school is on my side and wants me to succeed both here and beyond. I am honestly not accustomed to having people so eager to help me and wish me the best, but it is the largest reason I chose to go to school here."
What would you say to the donors who made your scholarship possible?
"The value of my scholarship is much more than just monetary. I just think of the nights I will be able to sleep better, the groceries I will be able to afford, the time I will save to focus on school instead of trying to finance my future, and especially the donors who made all of that possible for me. It takes a person of conviction and courage to part with their hard-earned money for someone they have never met.  The largest message I wish to convey to the donors of my scholarship is one of gratitude while also saying that their money will not be wasted on me. I will use my scholarship to become the best physician and person I can be, so I may hopefully pay my way forward one day and help put others in the future."
Prerana Ramesh, MSI
Hometown: Seattle, WA
Undergraduate: LSU Shreveport
Prerana Ramesh is originally from Seattle, WA but grew up in India with her maternal grandparents. She came to Shreveport to attend LSU Shreveport, where she graduated summa cum laude with a B.S. in Biological Sciences. Prerana was the recipient of the Louisiana Scholarship, Bill Harwell Memorial Scholarship, and the Dr. Jon Cheek College of Sciences Scholarship, and won the 2019-2020 Outstanding Student Organization Leader award as an undergraduate at LSUS. She has held leadership positions in the student chapters and volunteered with the American Medical Women's Association (AMWA), Doctors Without Borders (MSF), pre-health honor society Alpha Epsilon Delta (AED), and the Minority Association of Pre-health Students (MAPS) at LSUS. Prerana will be the first in her family to attend medical school.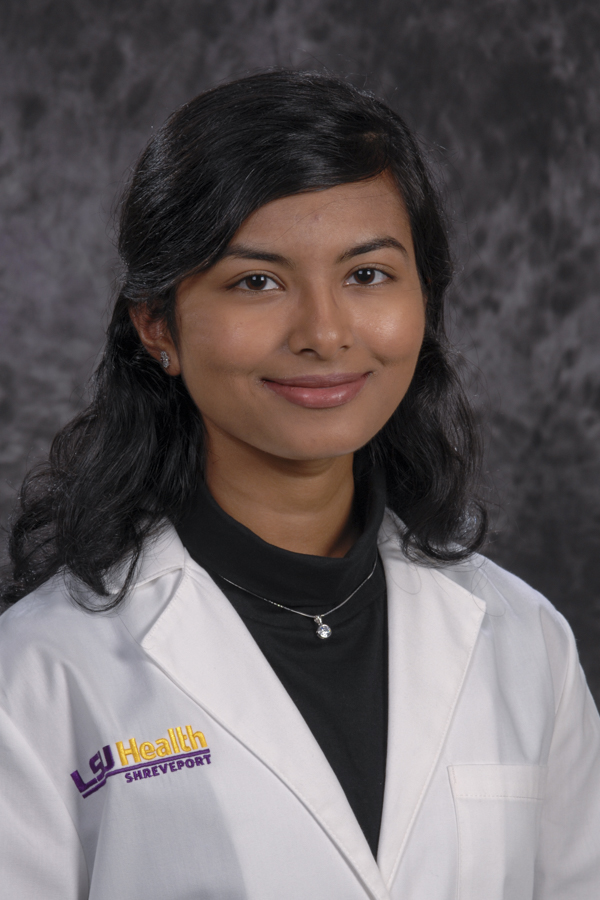 What made you choose LSU Health Shreveport for medical school?
My professors at LSUS encouraged me to apply to the Louisiana Biomedical Research Network's Summer Undergraduate Research Program (LBRN SURP), which became the start of my involvement in research at LSUHS. During my time working here, I really enjoyed the feeling of community and belonging fostered by everyone, and I can always trust that I can approach any of the LSUHS faculty or students for advice. I was beyond excited to be accepted into the LSUHS family as a medical student. I look forward to exploring new ways of helping the community through being involved in student organizations and participating in clinical research.
What impact will your scholarship have on your time at medical school?
"It is an honor to be selected as a White Coat Scholarship recipient. My scholarship will help relieve a significant financial strain and is a source of motivation for me to continue to do my best and give back to LSUHS and the community that placed their faith in me. I am incredibly thankful for the support of the LSU Health Foundation and the donors who made it possible for me to be here."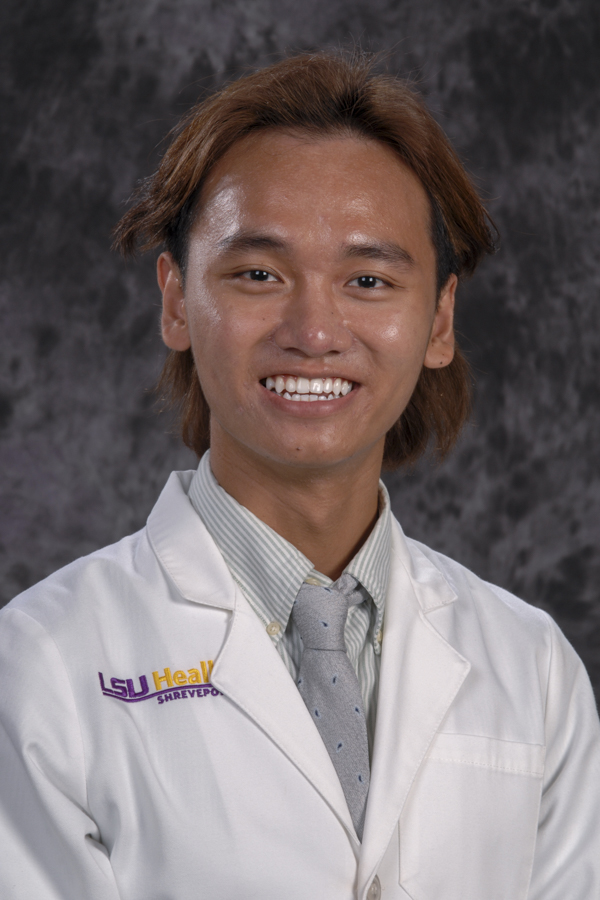 Huy Nguyen, MSI
Hometown: Ho Chi Minh City, Vietnam
Undergraduate: LSU Baton Rouge
Huy Nguyen was born and raised in a close-knit neighborhood in Ho Chi Minh City, Vietnam. At the age of 17, he and his family came to the United States to pursue new opportunities and Huy's dream of becoming the first doctor in his family. Huy, a first-generation college student, was offered a full-ride scholarship to LSU Baton Rouge, where he studied Biochemistry and Psychology, graduating magna cum laude. Huy chose LSU Health Shreveport to pursue his medical education and was awarded a White Coat Scholarship due to his hard work and dedication to his education.
Why do you want to become a physician?
"One reason I want to be a doctor is to make healthcare more accessible for non-English speakers, as translation services are unavailable at most hospitals and clinics. I understand this struggle because my parents always need me to visit their doctors with them."
What would you say to the donors who made your scholarship possible?
"I deeply appreciate the donors who made my scholarship possible. They have enriched the journey of becoming a physician for an immigrant like myself. I am grateful to be able to graduate with less debt."
Alika Shum, MSI
Hometown: Shreveport, LA
Undergraduate: Louisiana Tech University
Alika Shum is a Shreveport native and attended Louisiana Tech University, where she studied chemistry. During her time at Louisiana Tech, she volunteered with Compassus Hospice Care and the Knitted Knockers organization. Her favorite volunteering experience was tutoring other students in general and organic chemistry. She received the Most Outstanding General Chemistry Student Award in freshman year, served as president for Advocates For World Health during senior year, and graduated summa cum laude with honors. Outside of school, Alika enjoys playing tennis, traveling, and knitting. Alika is a first-generation medical student.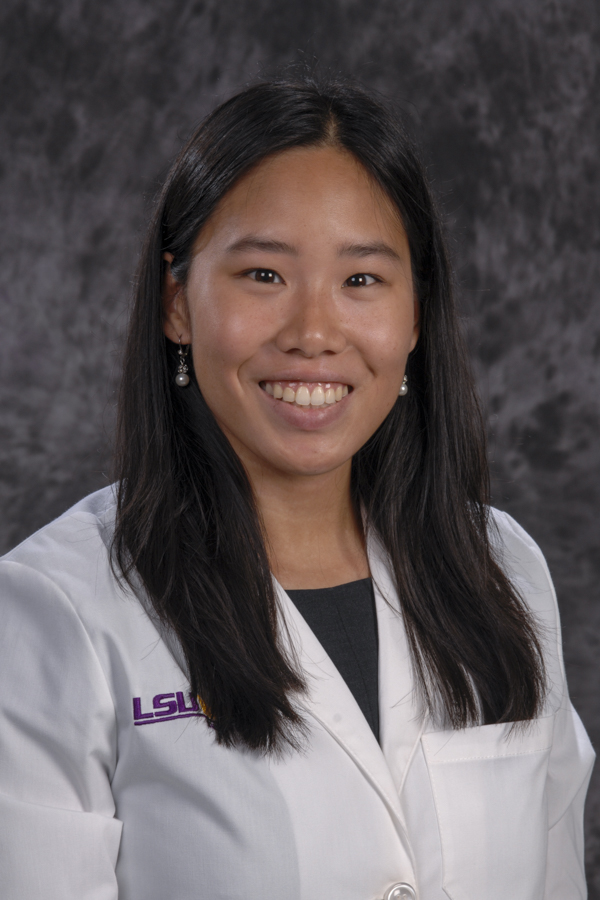 Why do you want to become a physician?
"I chose to become a physician to ensure I provide my future patients with a healthcare experience that is guided and collaborative. My personal experience as a patient has shown me how being well-informed about your condition can elicit feelings of assurance and confidence. As a physician, my goal is to deliver a type of care where I can hopefully elicit the same feelings in my patients throughout their healthcare journeys."
What would you say to the donors who made your scholarship possible?
"The financial burden that comes with pursuing a medical education is known to be a discouraging factor in starting a medical career for many students. To the donors who have made this obstacle easier to overcome, I would like to say how it is an honor and privilege for my classmates and me to have received your support in our pursuits to become future physicians. The meaning of your contribution shows your value in our time and education, warranting my deepest appreciation."
"My scholarship will alleviate the need to work a job for additional financial support, enabling me to fully dedicate myself to the medical school experience through studying and involvement in extracurriculars and the community."
Thank you for supporting LSU Health Shreveport students!
For more information about the White Coat Scholarship Campaign, including naming scholarships through an endowment, please contact:
Jesse Gilmore, VP for Development
318.861.0855
jgilmore@lsuhsfoundation.org
LSU Health Sciences Foundation
920 Pierremont Rd, Suite 506
Shreveport, LA 71106