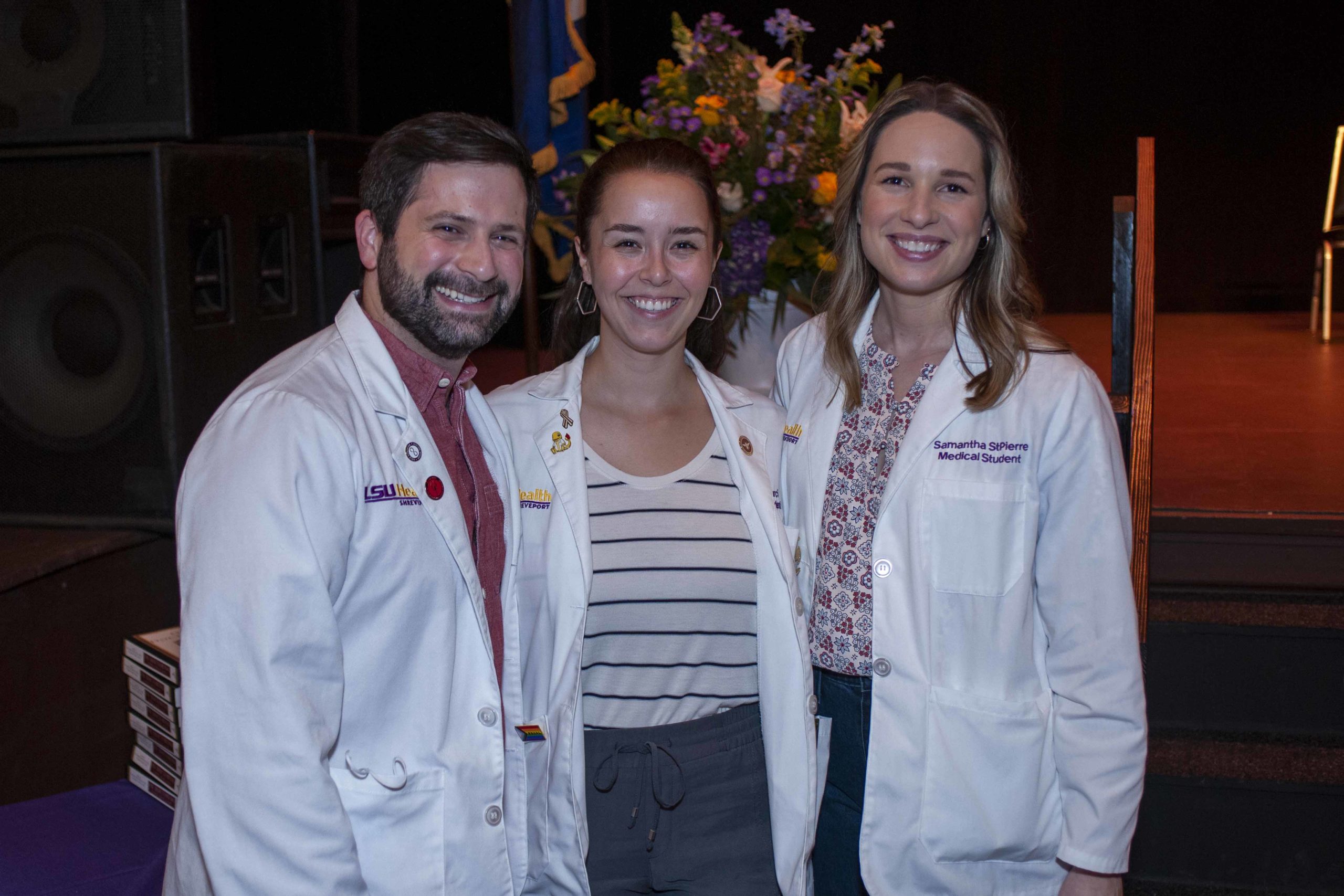 White Coat Society
Serving as the pre-eminent symbol of physicians for over 100 years, the White Coat represents integrity, respect, and professionalism. When second year medical students at LSU Health Shreveport receive their first white coat at their White Coat Ceremony, they take an oath affirming their commitment to the highest standard of ethics in patient care. LSU Health Shreveport is committed to training compassionate and highly-skilled physicians who make a difference in their communities.
As an LSU Health Shreveport alumnus, you have a unique understanding of the students who look to follow in your footsteps. Your compassion, coupled with the expertise you gained during your time at LSUHS, has led you where you are today. You are part of over 4,500 dedicated alumni who serve their communities every day representing LSU Health Shreveport.
We invite you to play a vital role in the lives of our future physicians. The White Coat Society has been established to celebrate the partnership between our loyal alumni and the LSU Health Shreveport School of Medicine.
By supporting our current medical students with an annual gift to the White Coat Scholarship Fund, the DeSha Endowment, Camp Tiger, or the White Coat Ceremony Sponsor Fund, you are an integral part of our students' education.
Give back to the next generation of healthcare leaders.

White Coat Scholarships 
LSU Health Shreveport is committed to easing our students' debt burden and expanding access to medical education, which is why we launched the White Coat Scholarship Campaign in 2021. With generous donations from alumni and community supporters, LSUHS awarded twenty-one $20,000 scholarships to incoming medical students in the Classes of 2026 and 2027. Read the White Coat Scholar Impact Spotlights here. This campaign allows LSU Health Shreveport to continue awarding need-based scholarships to deserving and gifted students. These students come to LSUHS with diverse life experiences, including those from underserved or rural communities. Additionally, as our medical school class sizes continue to grow to address the physician shortage, so must the opportunities for students to attend the LSUHS School of Medicine to become the physicians of the future.
Open doors for our future physicians.

White Coat Ceremony Sponsor 
The White Coat Ceremony is an important rite of passage for each medical student during their second year at LSU Health Shreveport, marking the change from academic to patient-centered learning. As an alumnus, you can play a vital role in this milestone occasion by becoming a White Coat Sponsor. Your gift will allow us to purchase a medical student's first short white coat that is presented at their White Coat Ceremony. Members of the sophomore class will receive their coats before faculty, family, and friends as they take an oath affirming their commitment to the highest standard of ethics in patient care.
Encourage a medical student.

The DeSha Endowment for Medical Education 
Dr. David DeSha leaves a mark on every single student at LSU Health Shreveport. Alumni Drs. Jim and Karen Small wanted to honor his legacy as a beloved faculty member who drives high-quality education at the medical school. Earnings from the DeSha Endowment will be used in perpetuity to fund enhancements to curriculum, student-led initiatives, and to improve the learning environment for the students. This crowdfunded endowment accepts donations of a few dollars all the way up to thousands. It speaks volumes to the power of Dr. DeSha and our faculty's impact on the medical professionals of the future.
Leave a mark on the future like Dr. DeSha.

Camp Tiger 
Camp Tiger is the annual community service project of first-year medical students and has been part of the lives of children in the Shreveport-Bossier community since 2000. It is a week-long day camp for children ages 5-18 with physical and cognitive challenges. Most importantly, since its inception in 2000, no child has ever paid to attend Camp Tiger because of generous supporters. Our medical students are passionate about Camp Tiger and the children they serve! However, each year expenses continue to rise that contribute greatly to the $600 needed to fund one child's week of camp.
Help our students serve their community.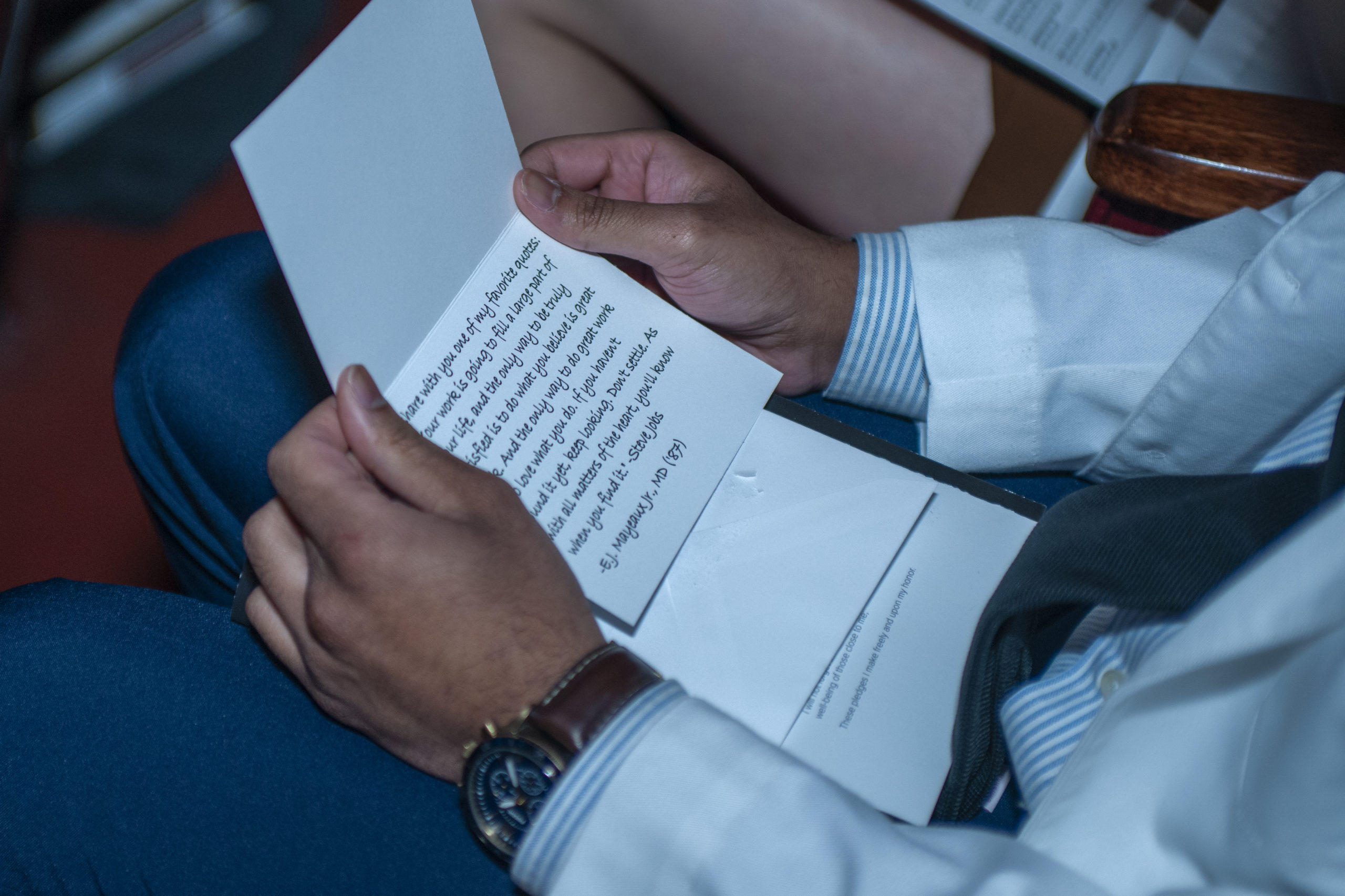 The White Coat Note
When you join the White Coat Society, we invite you to write a White Coat Note to be placed in the pocket of a second-year student at their White Coat Ceremony. Your words of wisdom and encouragement are met with the deepest gratitude by our students.
What do you wish someone had told you when you were beginning your career?
Click the link below to complete your White Coat Note. Alternatively, our Foundation will mail your card to complete once your donation is received.
Thank you for supporting LSU Health Shreveport students!
For more information about the White Coat Society, including naming scholarships through an endowment, please contact:
Jesse Gilmore, VP for Development
318.861.0855
[email protected]
LSU Health Sciences Foundation
920 Pierremont Rd, Suite 506
Shreveport, LA 71106